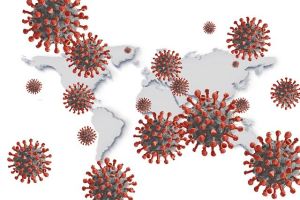 Nov. 1, 2021
INCREASED SERUM LEVELS OF SDMA AND ADMA AT HOSPITAL ADMISSION PREDICT IN‑HOSPITAL MORTALITY OF COVID‑19 PATIENTS
Researchers at the University Medical Center Hamburg-Eppendorf (UKE) and the University Hospital Aachen discovered two biomarkers, which can predict a severe course of a corona infection early on: ADMA and SDMA. By determining the serum concentration of these biomarkers at admission to the clinic, intensive care treatment modalities could be initiated earlier and the chances of survival improved.
So far, it has been difficult to predict a severe course of the corona disease. Age, previous illnesses and clinical laboratory findings were used as starting points, but were able to predict the severity of the infection only to a limited extent.
The Scientists conducted a pilot study with 31 subjects and could identify two human biomarkers in serum: Asymmetric (ADMA) and Symmetric Dimethylarginin (SDMA); two metabolites from protein metabolism. "The results of our investigations show that patients who had high levels for both markers at the time of hospitalization, had a mortality risk of 88 percent, while all COVID-19 patients with low concentrations of both markers survived," says Dr Juliane Hannemann. * A large multi-center study to confirm the results is planned.
For the determination of ADMA and SDMA, the scientists used the highly specialized method LC MS/MS. In their publication released in Scientific Reports (Nature Publisher) they point out that "ADMA and SDMA may be measured by ubiquitously available laboratory methods".
Our SDMA Human ELISA and ADMA Fast ELISA are well suited for this task. They are validated against LC-MS/MS (R=0.983 or R=0.987) and are both CE marked.
Contact us for more information!


*Cited from: Pressemitteilung vom 10.05.2021 11:41 UKE-Forschende identifizieren Biomarker zur Einschätzung schwerer COVID-19-Verläufe; Saskia Lemm Unternehmenskommunikation Universitätsklinikum Hamburg-Eppendorf

Original publication: Hannemann J, Balfanz P, Schwedhelm E, Hartmann B, Ule J, Müller-Wieland D, Dahl E, Dreher M, Marx N, Böger R. Elevated serum SDMA and ADMA at hospital admission predict in-hospital mortality of COVID-19 patients. Scientific Reports 2021; May 10
https://www.nature.com/articles/s41598-021-89180-w

Foto:
https://pixabay.com/de/illustrations/corona-coronavirus-virus-covid-19-4959447/
free license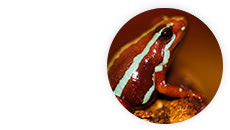 Aug. 31, 2021
We are excited to introduce two new RIA products!
LEMS® N-type Assay RIA
Determine the second most prevalent antibody in patients with LEMS


ACHRAB® Ganglionic Assay RIA
Specifically associated with Autoimmune Autonomic Ganglionopathy (AAG) and gastro-intestinal dysmotility

The LEMS® N-type Assay RIA is for the quantitative determination of autoantibodies to N-type Voltage-gated Calcium Channels (N-VGCC). The assay complements the LEMS® Assay RIA, which is used for the detection of autoantibodies against P/Q-type VGCCs.
VGCCs are a multimeric family of proteins with autoantibodies targeting the P/Q-, N- and L-types in LEMS. About 85-90% of patients with LEMS are positive for VGCC antibodies. Of these, antibodies targeting the P/Q-type VGCC are found in a significant proportion of patients with LEMS. Antibodies against N-type VGCC are the second most prevalent antibody in patients with LEMS; detected in 33-73% of patients diagnosed with paraneoplastic LEMS.
Serum autoantibodies reactive with N-VGCC were reported initially in dysfunction of the neuromuscular junction, specifically associated with Lambert-Eaton Myasthenic Syndrome (LEMS). Subsequently, N-VGCC Abs were detected in disorders of the central nervous system, including cerebellar degeneration and in paraneoplastic autoimmunity, particularly associated with Small Cell Lung Cancer (SCLC).
N-type VGCC autoantibodies are also detected in association with a variety of inflammatory neurologic autoimmune disorders including limbic encephalitis, neurodegenerative, psychiatric, seizure and movement disorders.
Functional N-VGCCs consist of a pore-forming alpha1-subunit together with ancillary beta, gamma and alpha2/delta subunits and are expressed widely in the central and peripheral nervous systems. N VGCC Abs primarily bind to the alpha1-subunit.

The ACHRAB® Ganglionic Assay RIA is for the quantitative determination of autoantibodies to Ganglionic Acetylcholine Receptors (gAChR) in human serum.
This Assay can be used to detect serum autoantibodies reactive with gAChR, which are implicated in impaired synaptic transmission at autonomic ganglia, specifically associated with Autoimmune Autonomic Ganglionopathy (AAG) and gastro-intestinal dysmotility. Functional gAChRAb are pentameric, consisting of alpha3 and beta4 subunits and are expressed predominately in autonomic ganglia. The gAChR Abs primarily bind to the alpha3-subunit.
These products are for research use only! Not for use in diagnostic procedures!
Photo: 'Epipedobates tricolor', a species of poison dart frog. Found on Flickr, [http://www.flickr.com/photos/deepinon/110593290/ here], user agreed to release under a free licence.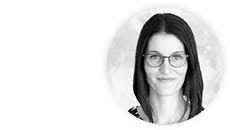 July 29, 2021
Dr. Karen Münzner appointed managing director
We are pleased to announce that Dr. Karen Münzner has been appointed Managing Director of DLD Gesellschaft für Diagnostika und med. Geräte mbH, alongside Dr. Rolf Lehmann, as of April 1, 2021. She has been appointed as successor to Dr. Matthias Deparade, who entered into well-deserved retirement on June 30, 2020.

Dr. Münzner (née Rosenberger, *1982, NJ, USA), a graduate engineer in biotechnology with a PhD in biochemistry, has been assisting Dr. Lehmann with the company's operations and direction as Head of Business Development since April 1, 2020. Furthermore, she remains the contact person as quality management officer, radiation protection officer, safety officer according to § 31 MPG, and medical device consultant according to § 30 MPG.

Much like Dr. Lehmann, she places great importance on expertly answering your scientific and application-related questions about our immunoassays. She draws on 15 years of experience as a natural scientist working in a laboratory setting, with 9 scientific publications and a broad spectrum of methods, as well as extensive experience as a coordinator of various diagnostic assay development projects.

Mrs. Münzner considers the provision of high-quality niche products – some of them unique worldwide – for human and veterinary diagnostics to be the future strength of DLD Diagnostika GmbH, which is certified according to EN ISO 13485 (see below for current developments). In this context, Mrs. Münzner pursues the securing of the CE marking of our IVDs according to IVDR 2017/746 as an essential topic.

Mrs. Münzner adheres to the principle "The value of an idea lies in the using of it." (T. Edison).

We are looking forward to a successful cooperation!

The current developments of new immunoassays are:

Following the market access of the CE-labeled Calretinin ELISA for the early diagnosis of asbestos-induced mesothelioma in 2016, work is underway to develop an ELISA with a new prostate cancer marker.

Furthermore, two new RIAs for the detection of autoantibodies against ganglionic acetylcholine receptors and antibodies against the N-type VGCC will soon be available as RUO kits for advanced neuropathological testing.

In addition to the SDMA vet ELISA for the early detection of renal failure in dogs and cats, which is routinely used worldwide, we have expanded our veterinary portfolio this year with a Canine ACHRAB® Assay RIA for the diagnosis of myasthenia in dogs. In addition, we are entering the business field of health and herd monitoring of farm animals with the development of an assay to determine the semen quality of farm animals.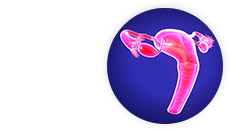 Feb. 19, 2020
Serum Calretinin as an independent predictor for platinum resistance and prognosis in ovarian cancer
Calretinin (CRT) is a calcium‐binding protein that controls intracellular calcium signaling. Besides its prominent expression in neurons, Serum Calretinin (sCRT) has recently been suggested as blood‐based biomarker for prediagnostic mesothelioma detection (see below under News).
CRT is expressed in ovarian cancer tissues in up to 40% of cases; however, its clinical relevance as blood‐based biomarker for ovarian cancer is unknown. sCRT was determined by a Calretinin Enzyme‐linked Immunoabsorbent Assay (Calretinin‐ELISA, DLD Diagnostika GmbH, Hamburg, Germany) in a total of 515 serum samples from 116 healthy controls and 134 ovarian cancer patients (thereof 86% with Fédération Internationale de Gynécologie et d'Obstétrique [FIGO] III/IV), including samples at primary diagnosis and at four longitudinal follow‐up time points in the course of treatment and at recurrence.
sCRT level was significantly increased in ovarian cancer patients compared to healthy controls (estimated difference = 0.3 ng/ml), was mostly independent from CA125 and enabled accurate discrimination between cases and controls.
Higher sCRT level at primary diagnosis predicted suboptimal debulking and was associated with advanced FIGO‐stage and increased amount of ascites.
sCRT levels at primary diagnosis and its dynamics in the course of chemotherapy were independent predictors for poor progression‐free survival.
Furthermore, sCRT at primary diagnosis or a relative sCRT increase in the time interval between surgery and the onset of chemotherapy were both independent predictors of platinum resistance.
This is the first study that suggests Serum Calretinin as liquid biopsy marker for independent prediction of platinum resistance and prognosis.
Cited from Int. J. Cancer: 146, 2608–2618 (2020) © 2019 The Authors. International Journal of Cancer published by John Wiley & Sons Ltd on behalf of UICC.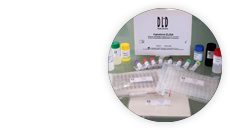 April 11, 2017
Calretinin ELISA: A New Assay for the Detection of Mesothelioma

2 Million tons of asbestos are still being manufactured annually. Over 100,000 people die each year from cancer diseases caused by exposure to asbestos.
The most common types of asbestos-related cancer diseases are malignant lung tumors and pleural mesothelioma.
Asbestos-associated cancers remain on a high level. Blood-based markers are urgently needed to limit invasive diagnostic procedures.
Calretinin levels were significantly increased in malignant mesothelioma patients.

We are glad to inform you about our new Sandwich ELISA for the early detection of human calretinin.

The Calretinin ELISA was developed in cooperation with the Institute for Prevention and Occupational Medicine of the German Social Accident Insurance of the Ruhr-University Bochum (IPA).

The novel assay is highly specific, sensitive and applicable to human serum and plasma.
The ELISA is robust and easy to perform.
The new test is validated in large case-control studies and is involved as well in a prospective study.

Preliminary results indicate that calretinin is not affected by hypertension and much less influenced by kidney dysfunction than mesothelin (data on file).
Therefore, calretinin may be used in cases with pathologies that are known to influence mesothelin.

Calretinin will add to a list of possible candidates for a biomarker panel.
The more markers are available the more marker combinations with possible advantages to choose from.

Calretinin may be the target of a new therapeutic approach.
Our assay might therefore be a helpful tool to (a) select candidates for and (b) monitor treatment during a possible anti-calretinin therapy.

Please find the product profile of the ELISA test, the complete instruction for use and a short summary under products attached.
The new Calretinin ELISA is CE marked and authorized for in-vitro-diagnostic device.
In the US and Canada Calretinin ELISA is for research use only!